About Us
In the 1970's, the Bradshaw family began a Greenhouse/Nursery business in rural Wilson County, Tennessee. With plenty of hard work and determination it grew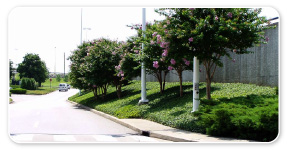 into a thriving enterprise and eventually evolved into a full service landscape maintenance company. Our company now serves commercial properties in the Metro Davidson area and all surrounding counties.
Bradshaw's Landscape & Maintenance is a Tennessee licensed and bonded contractor. If your needs extend beyond just mowing and maintenance we can be involved in your projects from design to finish. We also have a Tennessee Pesticide license and multiple certified applicators allowing us to legally handle all your chemical needs.
From turf to flowers to shrubs to trees, we are a full-service commercial landscape contractor who can support you throughout the project and beyond, providing continuation with ongoing maintenance for your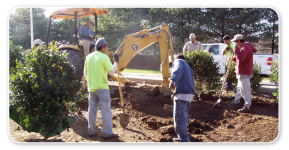 property. With over 25 years of experience in commercial landscape maintenance and a management team having logged well over 50 years combined in this business, we are your choice for mowing and turf management, landscape bed maintenance, hardscape, landscape design and installation and irrigation services.
You can trust Nashville's Premier Full Service Commercial Landscaper
Check our full line of services
Or contact us today for more information and free estimates.